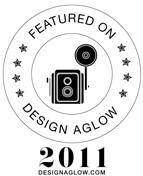 Yep, you read that title correctly, I'm a social media junkie. There, I've admitted it. I'm on Facebook, Twitter, Foursquare and even Google+ (not sure how I feel about Google+ just yet). I'm always checking in and checking updates on all the sites. I have many "friends" and "followers" all across the country and the world that I feel like I know, but I've never met in person … well not yet. At my last graphic design job, I was the go-to person whenever anyone had a social media question. Wonder where I'm going with this? Well, I was honored when Zach Prez emailed me to see if I would like to contribute to his latest ebook.
A few months back, Zach had me write a guest blog post for his blog: Photography Web Marketing Guide. He then featured me in his Photography Blog Success ebook and his 6 Tips for Photography Facebook Pages guide. Most recently, he asked if I would be interested in contributing to an ebook he was working with on Design Aglow. If you're a photographer and you aren't familiar with Design Aglow, you need to head over there! They are a great resource of information and products for professional photographers.
So little old me is now featured in the Photographer's Social Media Handbook in the Twitter section! I was so excited when I got the email from Design Aglow the day the handbook came out, that included that cute little badge you see at the beginning of this post. Now I don't feel so bad about being a social media junkie!