I've been putting off getting my own headshots done for a long time. I wanted to grow my hair out, I wanted to lose a few pounds … on and on were the excuses for why I wasn't ready. I finally caved and coordinated with Melissa Jones Photography after I did her family portraits in November for a late December session of my own.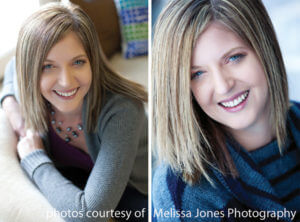 I figured since I should practice what I preach to my own clients and started to prepared for my photos accordingly. A few new outfits were a must, well maybe not a must. Ok, I confess that was just an excuse to go to Ann Taylor and The Limited and do some shopping. I had a hair appointment already scheduled with Ashley at Michael David Salon in Westerville for a day that worked with everyone's schedule. I started going to Ashley earlier this year and I just love what she's been able to do with my unruly hair. I have a crazy, unruly mop and she always works her magic on it!
Next on the list, makeup. I typically don't wear much, so I opted to have it done professionally for my headshots. I especially wanted to get my makeup done after seeing how great Melissa looked for her photos. Mary of Mary Elizabeth Color was great and stopped by right before my session to do my makeup for me. If you're planning on having your makeup done prior to your portrait session, I highly recommend Mary. Her prices are great and she does a wonderful job as well. I'm so happy with the end results and a lot of that had to do with my pre-planning and prep before the session. Melissa captured a great variety of headshots for me and these are my two favorites!