There are a ton of photographic products out there for high school seniors. I'm going to share three of my favorite book, album and folio products with you that I offer at Danielle Neil Photography. There's more to senior portraits than just 8×10 prints and digital files of your senior portraits.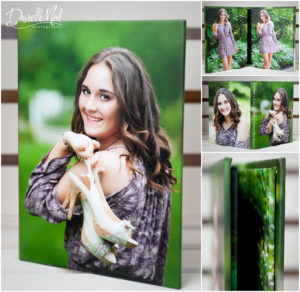 The Image Folio
The image folios are a favorite for high school senior clients. These are nothing like the folios they had when I had my high school senior portraits; that's for sure!
The folios are excellent for a desktop, bookshelf or coffee table display. Perfect for mom or dad's office or a great keepsake for Grandma and Grandpa. They are available in 3 sizes, 5×7 (horizontal or vertical), 8×8 or 8×10 (horizontal or vertical). It includes an image on the front cover, back cover and also two images inside. This super strong book stands by itself on any flat surface.  It's a perfect way to feature your gorgeous images from your senior portrait session!
I just started offering these in 2016, and they've been a huge hit! My high school senior clients also have used them at their graduation parties as part of the display.
The Accordion Book
These are a high school senior favorite! These super cute 4×8 books are big enough to display your senior portraits, yet small enough to slip into mom's purse to show off your senior photos off!
I offer a few different layouts and styles of these great little books. The outside has 4 panels with 3 panels on the inside and it displays an image on the front cover along with your name and school info.
These are a perfect way to showcase your favorite images from your senior photo session. Another fun way to display photos at your graduation party, display on mom's desk or just keep them in your purse to show off to your friends!
The Fine Art Book
I LOVE this book! It took quite a few samples and a few trade show visits to find this album. But as soon as I touched this book and flipped through the pages, I knew this was the book I'd be offering to clients. There are a TON of album and book companies for photographers. Since I spent years as a graphic designer, I was picky about paper and cover types as well as how the final printed piece would look.
The sleek and modern Fine Art Books come in 3 sizes – 10×10, 8×8, 6×6. I also offer a 4×4 duplicate mini book that is ideal for gift giving. The sturdy cover features one of your favorite images. Oh and the inside pages are fantastic. They are made of a fine art paper, it's a museum quality art book.  Every page is printed with archival inks so that it will last for generations and beyond.  The pages lay flat, which makes it phenomenal for an image to spread across two pages.
The photos I snapped don't do any of these products justice, especially the lovely Fine Art Book. You'll definitely want to check it out when you come to the Boardman studio for your proofing and ordering appointment.
I also offer both a 4×6 and a 5×7 traditional album for clients. But the above products are my favorites to show off your images at home, on the go and at your graduation party!
Save
Save