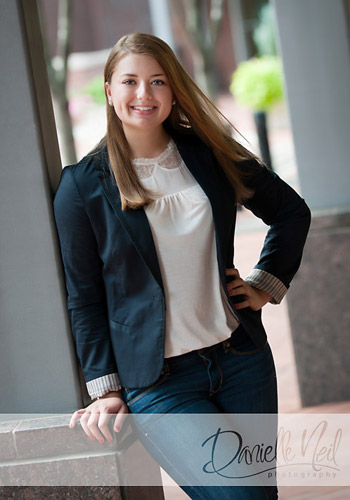 It is that time of year — with a lot of high school senior photos are on the schedule! I had a great time the other week getting to know Carly and her wonderful mom while photographing her portraits. Carly was looking for a combination of traditional and urban background and I had the perfect locations for her – North Bank Park and the Arena District in Downtown Columbus.
Our initial session date had to be postponed. Oh, the unpredictable Ohio weather! Not only was it drizzling, as well as super humid (what a horrible combination for hair!) but her hairdresser was sick on the morning of the photo session. We picked another date that worked out perfectly for everyone. While a little hotter out than we had hoped for, we did not have to battle rain or humidity.
We started her session with a very cute sidekick, Jamie, her Labrador. One of the reasons Carly decided to have me photograph her was because she wanted a few images with her dog as well, to document her senior year. Her dad was kind enough to bring Jamie over to the park and as soon as we wrapped up the senior + dog photos, they were on their way home.
Carly, like most seniors, was a little nervous in front of the camera for her portraits. I was able to quickly put her at ease to create some stunning photos of her. She was a natural in front of the camera and did an amazing job. We became fast friends and talked about Columbus School for Girls, volleyball and TV, while covering a lot of areas in the Arena District.
Here are a few of my favorites from her session. I cannot wait for all of the high school senior sessions that I have coming up this fall!