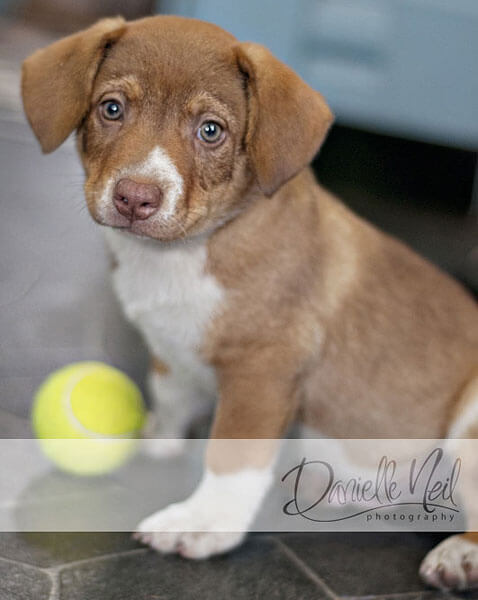 This week's trip to Pets Without Parents started out like all the others for George and I. We began with the cats and I tried to photograph as many as I possibly could. I brought a new cat toy with me in hopes that they would be more enticed to pose for the camera. That plan didn't work for all of them, especially the kittens! I kept the toy out to get the attention of the dogs and it worked for them as well! As always, there were some amazingly cute and super snugly pets to photograph at the rescue.
There was one puppy, Ravioli, who's cage was by the room where I was photographing. He was so sweet and as you can see from the portrait on the left, so cute. Of course, every time I walked by, I stopped and talked to him. I decided to photograph this puppy last so I could spend more time with him. Well, I spent a lot of time playing and not much time photographing him. One of the staff mentioned that he did not have an application in for adoption. I'm sure you know where this is going. George and I filled out the application. I went out back to the cat playhouse to photograph a few more cats. When I came back in, George told me we were approved if we wanted to take Ravioli home. Eek, a dog, scratch that, a puppy was going to come home with us?!?!?! We've talked about getting a second dog for years but were never sure how Baxter would take it, since he is king of the house. We decided to call it a foster for a few days and see how all the animals got along. Ravioli now goes by Spencer and we've officially adopted him!
Baxter doesn't know what to make of this cuddly little dog who wants to play, while Baxter wants to sleep. I can tell you that Spencer is madly in love with his big brother Baxter and would rather play and cuddle with him than George or myself! Our cat, Muffin, is somewhat confused by the new addition, but I think they'll all be perfectly fine once everyone gets used to each other. Spencer's mom is an Australian Shepherd Mix. All we know about dad is that he must have had some stubby legs, because this pup has them too. You'll be seeing much more of him on the blog after we all get through our adjustment phase. Poor guy, he'll be the most photographed puppy in the world! At least Baxter will be happy that he's no longer required to be the only dog model in the house.
Below are just a few of the dogs and cats I photographed this week. Hopefully they too will find their new homes very soon! Please support local shelters and rescues by adopting a pet!