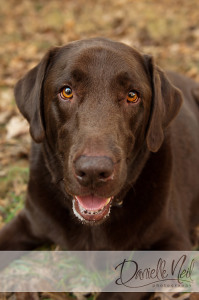 I always have clients that say their dog probably won't cooperate for a photo shoot. I explain to them a little bit about the session itself and how I take the time to get to know their pet and work all types of dogs. I have photographed from one extreme to the other including super hyper to very, very shy. I figured a great way to show a little bit about how the dog photography process works is to have some video taken of me in action.
I knew exactly who I wanted to film my little video. I was "stuck" across the hall from Bob, video producer extraordinaire, while working at TriAd Marketing & Media. For 5 years, I listened to him edit videos all day long while I did graphic design work. Needless to say when this little idea popped into my head, I quickly emailed Bob. Although not what he typically shoots footage of, he was quickly on board and excited about TriAd working on my dog photography video.
We set up a date and location, then I contacted Rebecca to have her bring her dog Coach, for photos. I don't think Bob knew exactly what he was in for during the shoot. Coach was exactly what I was looking for; all over the place! This guy had so much energy, he could not contain himself! He was the perfect model for this video because so many owners think their dogs would not be good in front of the camera. Even though Coach was full of energy, I still was able to capture some amazing photography while Bob captured some super fun video.
I cannot wait to get the video up on my website, but that is definitely a January project along with a total redesign. So in the mean time, I decided to post it to YouTube so I can share it with everyone on the blog.
Thanks to Rebecca and Coach for helping me out and a big thanks to TriAd for taking on my little project!
Without further adieu, take a peek at what goes on during a typical dog photography session with Danielle Neil Photography!
Video above not working or you'd like to watch it in HD? Use this link to swing on over to YouTube to watch there.