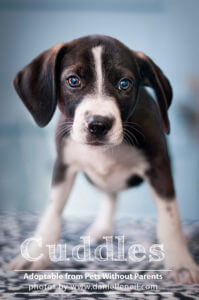 Did you know that October is Adopt-a-Shelter-Dog month? I just learned that little tidbit myself. I had another chance to stop at Columbus' Pets Without Parents to photograph their adoptable dogs and cats. I was so excited that all the dogs that were there were new faces for me to see! That makes me happy to know that the dogs that I photographed a few weeks ago have finally found homes. Sadly, there is still a lot of cats at the rescue that haven't found homes yet. Maybe October should be Adopt-a-Shelter-Animal month, to help find these kitties a home.
We have three rescue pets at our house, one cat and two dogs. I think rescue animals know that they owe special love to the person that adopts them. It's a different bond and their love is endless. I was sick with the flu earlier this year and Baxter didn't leave my side. He laid on the couch with me, as close as he could get. He just didn't want to leave until I got better! Now that's one dedicated dog!
Hopefully when I go back to Pets Without Parents in a few weeks, I'll again get the chance to see all new faces! If you see a dog or cat you think you won't be able to live without, stop by Pets Without Parents to meet him or her!
If you are a pet photographer, please consider joining HeART's Speak. It's an organization that works to unite artists (including photographers) with rescues into collective action for social change!