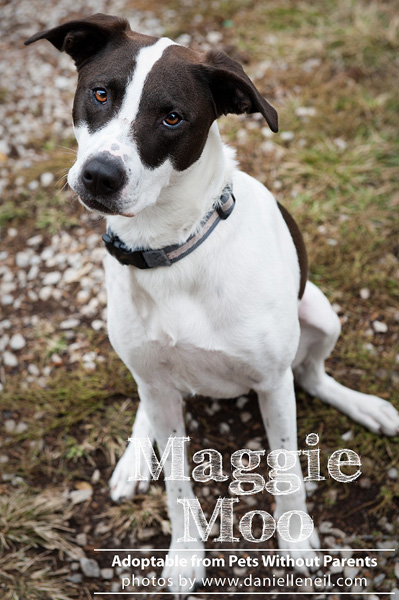 It was a "light" day today, photographing at Pets Without Parents. Only 16 new dogs and cats needed their photos for the PWP Petfinder page. The downfall to that is that almost every cage had at least one if not a litter of pets in it. While some of the puppies already have multiple applications in for them, some of the others are not so lucky. A few of the dogs and cats I have photographed in the past have not found their new furever homes yet. During the month of October, all adult cat adoption fees are being reduced to just $25!
Wondering why there is a big picture of Maggie Moo at the beginning of this blog post? Well, this sweet Shepherd Mix had some special photos taken. A little bit on Maggie's story. She is almost two years old and arrived at PWP when she was two months old. She was quickly adopted out as a puppy, but her owner recently got a new job that is too time consuming to care for a dog. So Maggie is back looking for a new owner who will have the time to care for her. Now that you know a little more about Maggie, she had her special photos taken for an upcoming playbill. The Columbus Children's Theater will be putting on "No Dogs Allowed!" from November 1-11th. As part of this show, the Theater partners with PWP and will be featuring Maggie in the playbill! Maggie had no idea that she had special photos taken. All that she wanted to do when we went out back of the shelter was play ball!
Please share this blog post with anyone you know who is looking for a new pet. Hopefully when I return to the shelter next month, I will have many more new animals to photograph, because everyone currently there currently has found their new homes.