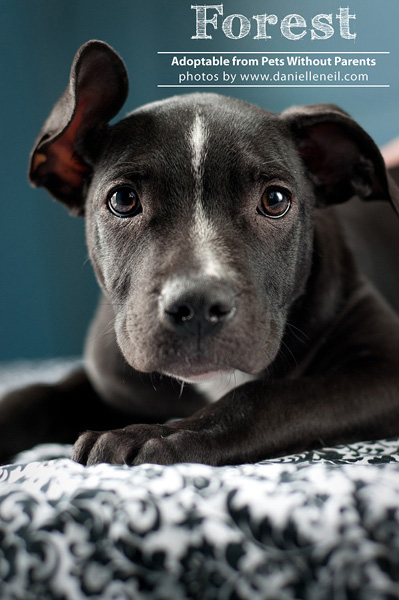 Ahhh, Pit Bull puppies, my favorite! There is at least one Pittie at Pets Without Parents (PWP) every time I go there to photograph the adoptables. Because they are an all-breed shelter, they take breeds like Pit Bull Terriers, that other shelters may not take in.
Pit Bulls have a bad rap and they really should not! Did you know during World War I, they were on Army recruitment posters and in the 1930's, Pete the Pup, an American Pit Bull Terrier, was featured in The Little Rascals? The trend of these dogs having a bad rap is a somewhat new occurrence. When dog fighting reemerged in the 1980's, the Pit Bull happened to be the dog of choice. As the news stories started rolling in of fighting rings and the dogs involved, people decided that this breed was  vicious. Pitties are amazing dogs and they deserve the chance to have a good life, just like any other breed.
I'm happy to say that Ohio has finally started to see the light and is lifting restrictions on Pit Bull owners in 2012. The bad news is that many communities in Ohio are still enforcing their own breed-specific legislation that includes many restrictions on Pit Bulls and other breeds deemed "dangerous".
You're probably wondering why I am going on and on about Pit Bulls today. I'm so happy to say that PWP does not euthanize any animals unless they are too sick to have a good life. But, at many other shelters across the United States, Pit Bulls are the most often euthanized breed. Out of all the breeds I have photographed, these dogs are my absolute favorite. They are so friendly and the puppies just melt my heart. Just look at those eyes on Forest on the left.  Guess what, he's a Pit Bull too. At just shy of 3 months old, Forest was found on the side of the road. Like any other breed of dog, with the right owners that can offer love and attention, this little guy will grow up to be a great companion!
Don't forget to check out the images of the other dogs and one cat below, that are all new to PWP since my last visit. If you are looking for your next pet or know someone who is, have them stop by Pets Without Parents in Columbus!